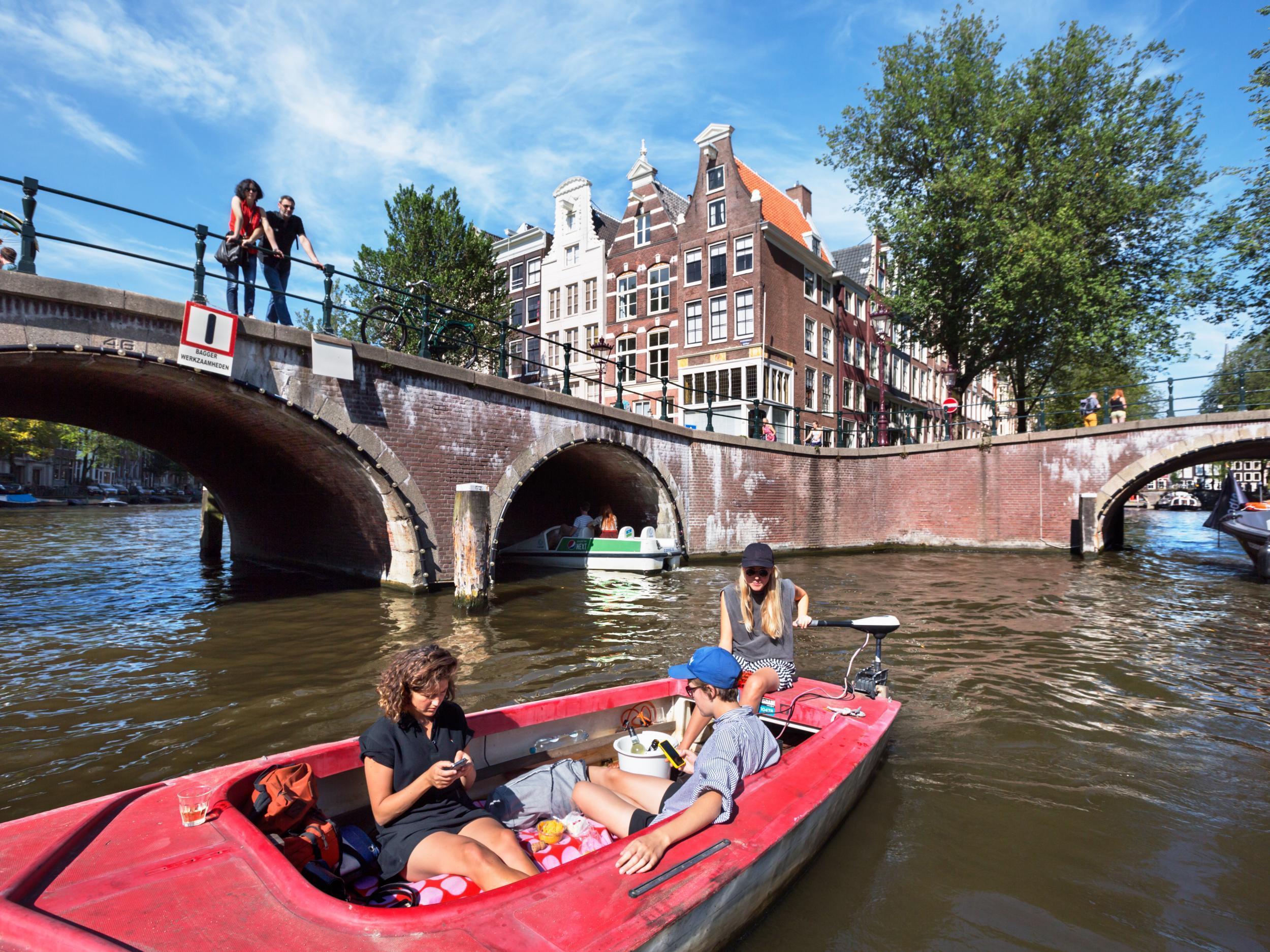 Amsterdam is Netherland's main cultural centre with 40+ museums, entertainment venues and numerous theatres along with research institutes, academies, and universities. Tourists just adore the historic homes dating from 16th all the way to 18th century spread around 2,000 acres divided by 160 canals. The 90 islands of the city are connected with picturesque bridges. Let's discover the best attractions of Amsterdam city.
Dam square
A tourist packed area because Dam square features the Royal Palace or Koninklijk Palace of 17th century. At present, Dutch Royal House uses the palace for royal events. However, for most time of the year tourists can catch the glimpse of the early 1800s elaborate Empire style interiors.
Other attractions in Dam Square are Madame Tussauds, New Church, and National Memorial Statue. This vast public square includes shops, cafes, and vendors selling souvenirs and food. There is lots of entertainment ranging from annual music festival to street performers and people can enjoy the Ferris wheel.
Next to Royal Palace is the New Church, which is an official coronation place for Dutch Monarchs ever since 1814. On the opposite side is National Memorial statue, which is 22m high pillar erected after II World War in the memory of victims.
Scheepvaart museum [National Maritime Museum]
Tourists can get a view of the rich nautical history within this museum. It is one of the best free attractions in Amsterdam constructed in 1656 featuring 18 rooms filled with art affects and exhibits. The museum reveals how Dutch dominated historical sea battles with exhibits like the 17th century weapon and artfully drawn maps.
Vondelpark [Nieuwe Park]
Park was opened in 1865 and it occupies 116 acres. Besides the greenery, peaceful pods, and ample paths, the park has a rose garden growing more than 70 flower species. There are many statues and sculptures, playgrounds and recreational facilities. The Vondelpark open air theatre serves as venue for stage and musical shows in summer. Park is like a picnic spot, where you can enjoy full meal or snacks.
Botanical garden and zoo
Hortus Botanicus Amsterdam is the oldest botanical garden, founded in 1638. It features exotic flowers, rare trees and plants and huge hothouse. At a walking distance is Natura Artis Magistra, an excellent zoo, where creatures from all around the globe reside within a shady garden having a backdrop of historical buildings. At the aquarium get to know about the coral reef system as well as peek under Amsterdam canal. There is the zoological museum, butterfly pavilion, insectarium, nocturnal animal house, and planetarium.
Bloemenmarkt
The only floating flower market in the world lies on Singel canal, since 1862. There is dozen florists, garden shops, and souvenir stalls in the Bloemenmarkt. Locals shop here but tourists can grab the ready to export daffodils, tulips, and other bulbs, which can turn into a lasting memento of their tour to Amsterdam.
Anne Frank House
Since 1947, the house has been observed as memorial to Holocaust, after Anne's father published her diary when they stayed hid in this structure during World War II. In 1960, building was opened to public as a museum. The rooms exhibit an historical touching and tragic period.
Rembrandt house museum, Oude Kerk, the Stedelijk, Begijnhof, Jewish Historical museum, Kalverstraat, and the attraction list goes on and on. Majority of top attraction in Amsterdam lie at walking distance, so make sure to choose accommodation wisely.